The NCF Store recently started carrying a smaller sized brisket. Instead of 7-8lbs the new cut is more manageable for a family at 2 ½ to 4 lbs. This meal fed 2 families, 5 children and 5 adults for under $70. That's a big crowd when you realize the kids are hitting peak growth and hunger ages. Yesterday, was a typically busy house day. It's the beginning of the homeschooling year, creating a bit of chaos.
I started watch Big Bang Theory years ago, since then I've wanted to make Howard's Mother's Brisket. It always appears to be one of those sought after items and much discussed. At 11 a.m. I realized, "Oh no the brisket isn't in the oven yet. Is it too late?" Usually when I smoke a brisket, I like to keep it at 225 F for 12 hours. This however, was going to be served at 6 pm. OOPS!. As I seasoned the roast I discovered I was out of garlic powder. My mise en place was non-existent. I did what any good cook does and turned up the heat, changed the recipe and crossed my fingers.
In the afternoon, I met up with Erin (our neighbor & NCF's milker) and run a chicken errand. When Erin and I walked in the door at 5:30pm; Bam the smell hit us. Something amazing had happened while we'd been out, the garlic powder missing was a great accident. Erin was planning to make tostadas for dinner and we both thought the kids would love to have dinner together and pulled beef brisket tostadas just sound AMAZING. I must admit they tasted even better, especially since Erin pampered us with fresh fried tostada shells.
Sorry, there aren't a ton of pictures of the process as I did not plan on blogging this due to my loss of time management. It is too good not to share though.
This Savory Brisket can be served in numerous ways. In this case I used it for tostada's , several of our clients have used this recipe for dinner parties where they shred the meat and serve it with rolls, or just as the main dish itself. For those of you who do not like shredded meat you can also slice it thinly.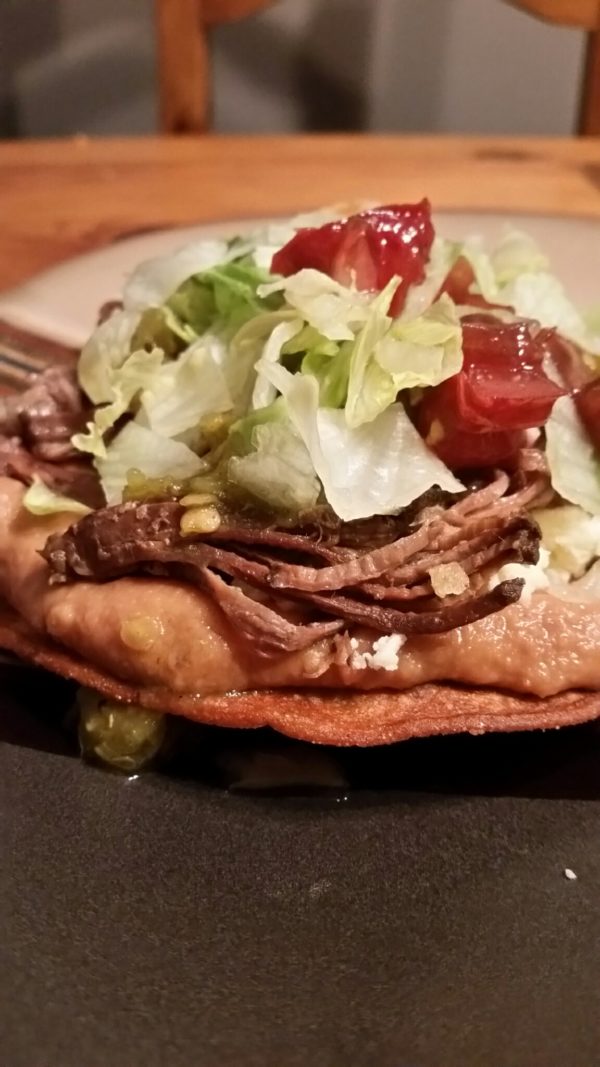 | | |
| --- | --- |
| | |