It amazes me the people who don't know about snow cream, even people from up North. I guess it's like living at the beach. When you live there you never go.
Living in the South all my life, snow cream is the ultimate treat. Being fortunate enough to have grown up with parents who lived through the depression, and grew up in the country, and who doted on the last child (Me!) I was able to experience snow cream. But only every so often. We rarely get enough snow to make snow cream. An inch or two isn't enough. We need a real snow, 3-6 inches. That means there is enough clean snow to scoop some up without getting grass, leaves, twigs, etc. in the final product. I recall twice, maybe three times in my life growing up where we had that much snow.
Now that I have kids of my own, I've made snow cream for them. Once. But when those rare snowy occasions come, I'm always ready for more.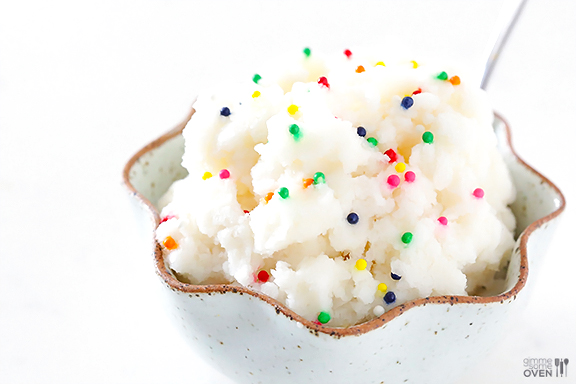 | | |
| --- | --- |
| | |
Already have your non-snow ingredients ready.

Send the kids out to gather snow in your largest bowl

Bring your large bowl of snow in the house. Pack it down a bit so it's not too fluffy. Don't make an ice cube.

Don't pay too much attention to the amounts above. They are just for reference. Dump 2/3 of your snow in a bowl.

Add milk till it gets to the right consistency, stirring in between additions. If you get too runny, that's what the other 1/3 of the snow is for. Add more snow.

Then grate on the nutmeg, add the pinch of salt and the vanilla and give it a quick stir.

Once it's right, add sugar till it tastes sweet enough.

Sprinkles are optional, but come on. Live a little!