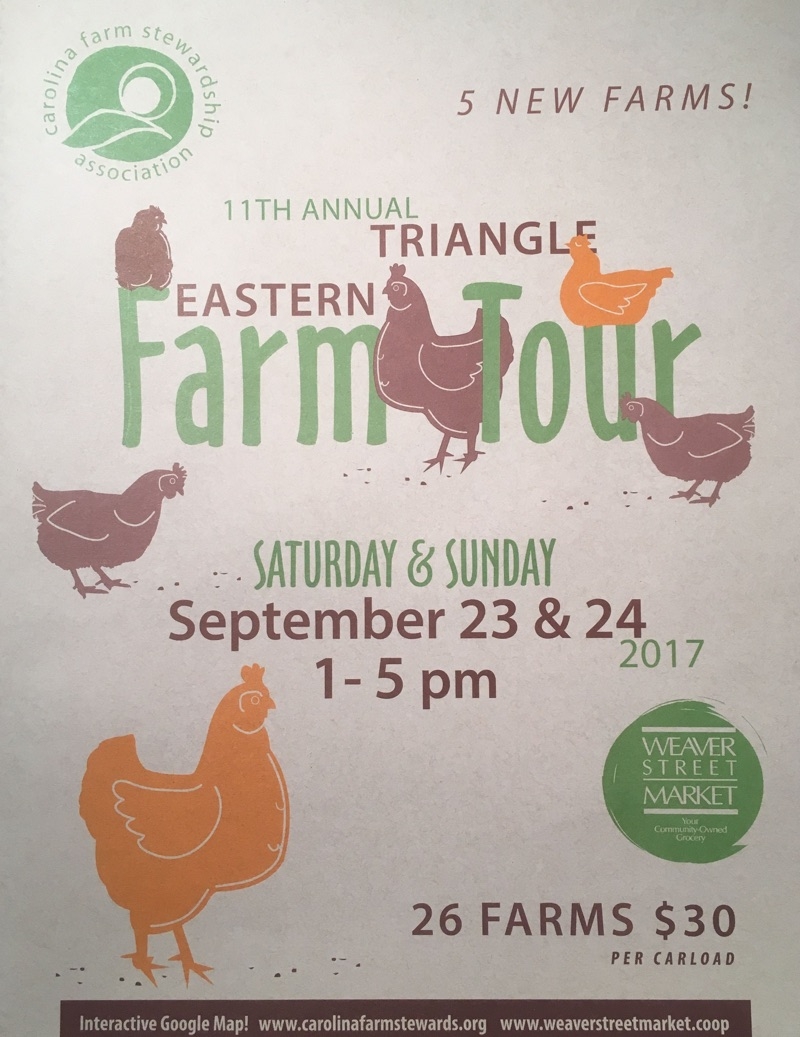 136 people. That's how many folks we had through here that were directly related to the farm tour. If you figure that the average visitor visited three farms on their tour that would mean we could do a bit of interpolation and say that the overall farm tour had 1,179 people all combined. Considering we've had solo events with nearly double the people, that would make our participation on the farm tour a failure.
However, that is not the case. We can host the farm tour with little effort on our part. We are already set up for tours nearly every day so there isn't a bunch of running around cleaning up for company.
Getting our new signs was something we needed to do anyway so no sweat there. This just forced me to finally get them ordered.
Having everyone on the farm up for a farm event, and then dinner and booze afterwards, is good for the community and the soul. Sadly it wasn't too healthy for the liver, nor the head the next morning. But overall it was fun.
Cousin Cody came over for the weekend, much to everyone's pleasure. He helped prep, work, and was the one parking cars if you happened to stop by. On Sunday we had  real treat as my brother-in-law came over to help work as well. I placed him in direct charge of "being an adult" and helping direct traffic if he were so inclined. It was his first time being here when we were open for business so it was neat to have him here to see what we actually do.
Jennifer from Buck Naked Farms was here on Saturday and Mark from right here on the farm was here Sunday to teach people about bees. They had a lot of good activity and questions for the number of people we had.
The Clark kids were here both days with their pet chickens. Said chickens  were sporting leashes and walking around. You've never seen anything till you see a chicken on a leash.
Jason was here to man the sample booth. We sampled our Pork BBQ and I know a good amount of them went out the door because looking in the freezer I need to send a pig for BBQ on Thursday. That is success.
Lucy spent Saturday walking around doing a bit of everything, including garden tours until she reminded me she was supposed to be giving actual tours. After that she and Spork handled all the tours for the day leaving me completely unencumbered.
Crystal ended up spending the night on Saturday which meant the girls had a friend over for a sleep over (they were super excited). Since work didn't start till 12:30 on Sunday (tour started at 1) there was time for sleeping in and then dad's famous pancakes with home made whipped cream.
I spent the two stunningly gorgeous days sitting beside my darling wife, talking to customers, talking to my brother-in-law, talking to my kids, and generally relaxing as people came and went. The pace was steady but sedate. No real excitement, no real worries.
The results in the store were not bad for a Saturday. We saw a number of new customers, including a bunch who were not here for the tour but simply stopped in because of the road signs we put out. Hopefully we'll see those folks back again now that they know we are here.
Expect to see us next year on the farm tour. Maybe we'll have a few more people next year, but not too many more. I don't want to miss my vacation.