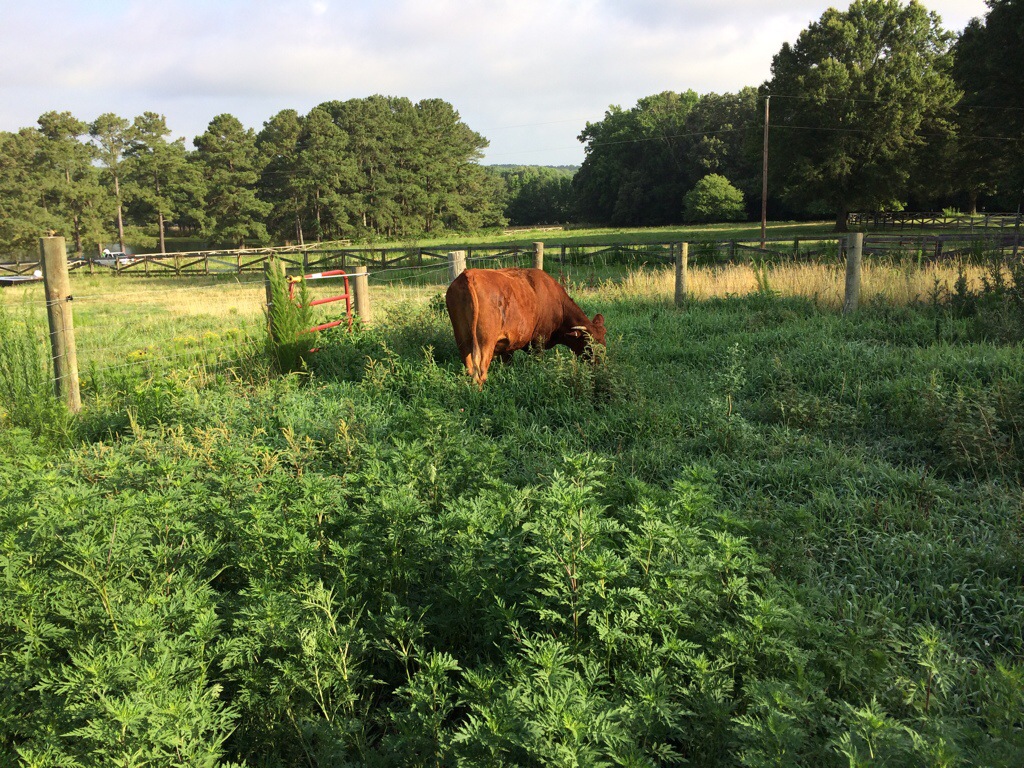 Today was graduation day for Samuel. He was loaded up and took the 1 hour ride to Chadhrey's  in Siler City, NC. Before getting on the trailer I gave Sam some time unmolested to enjoy grazing this small paddock. This is a paddock where we used to feed hay in the winter and now serves as a holding paddock for when cows are run through the corral. Effectively nobody is ever in here and the grass grows very tall and lush. Sam was pretty happy to enjoy grazing the sweet grass tips unmolested by me or other cows competing for the juiciest bits.
After a good breakfast, Sam hopped right onto the trailer and we had an uneventful ride to Siler City. Sam is the son of Spunky, our old milk cow. When we purchased Spunky, she was already bred to one of Dr. Sydnor's Red Devon bulls so Sam has always been a little different being here with all the Ninjas. However he grew to be a very fine-looking steer and should make excellent meat. Now we begin the 2 week wait for aging and packaging. Hopefully July 17th I'll be heading to Siler City to pick up all of our meat and we'll switch over from the porkapalooza we had all winter to beefapalooza all summer.
And in case you are wondering, this cow is destined for our family. The way they eat, I have to be in the cattle business!