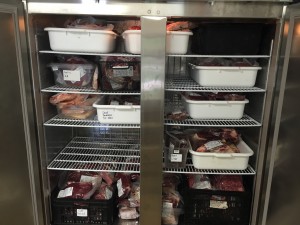 I couldn't say anything, because I wasn't sure if the processor would have our cows ready on time. But I got the call (after multiple attempts to get an answer  this week) that our cows are ready as of this morning.
I'm on the way now to go pick up two cows worth of beef and to stuff our freezer to the gills. I will be back, and unloaded, before Lucy opens today at 2pm. That means ribeyes, NY strips, eye round roasts, etc. All the goodies will be in stock this afternoon and tomorrow.
We are open 2-6 today, and 8-5 tomorrow. No appointment needed! Stop by and get some fresh beef!
Of course, we are fully stocked on pork, chicken, dairy, etc. as well so we have all the goodies for you.