Processor pick up day is akin to Christmas morning for 5 yr olds here in the NCF store. The difference is we're all closer to 40 than 5 and we're getting giddy over new cuts of meat.  This week we received our first Uncured Ham Slice Steak. Hello new porky goodness to experiment with.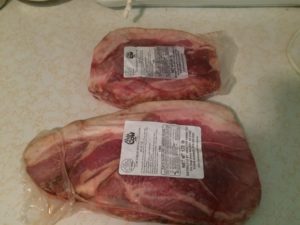 Today I'm going to serve up a Peach Jam Glazed Ham Slice. You'll find much of my cooking has alcohol in it. As a Nashville girl Jack Daniel's is a go to flavoring for me. Apple Cider Vinegar is Pork's best friend. It enhances the flavor without adding a ton of unnecessary sodium.
First things first, just like Beef you want to bring your Pork Steak up to room temperature. An hour before you cook set it out.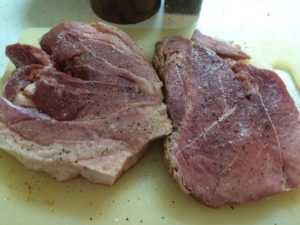 Trim the excess fat from steaks, I freeze my leftover fat to use in dishes later like collards, or to render into lard for cooking. Side note if I'm going to use the fat for collard or beans later it will get smoked first.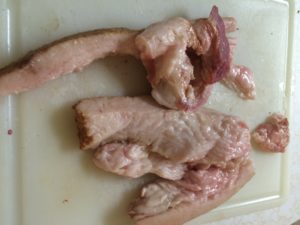 Sauce
½ cup Buck Naked Farm's Peach Jam

2 TBSP Jack Daniel's

1 tsp Apple Cider Vinegar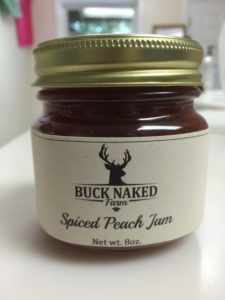 Place ingredients in a small saucepan cook over a medium low heat till reduced.
Pork
*Pre-Heat broiler to 500 degrees F
*Use a heavy bottom skillet that is broiler safe
*Salt & pepper steaks to your taste
Pre Heat 2 tsp of EVOO (Extra Virgin Olive oil) over med-hi heat  place steaks into your skillet
Cook for 4-5 minutes until the steaks release from the pan without tearing. If you feel them stuck to the pan let go and wait.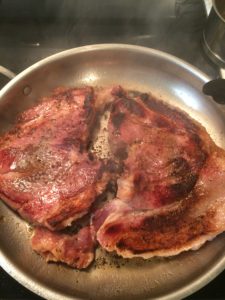 While waiting spoon ½ of your sauce over your steaks.  Once the meat releases from the pan flip them. Spoon your Sauce over the 2nd half of the steak. Place in the oven for 7 minutes.  When done place steaks on your serving platter and cover with foil for 5 minutes.
While these cool place your skillet back on the stove on medium heat. Use 1 cup of Pinot Grigio or your favorite light non-oaked white wine to deglaze your pan. Simmer down the sauce till thickened and pour over the steaks.