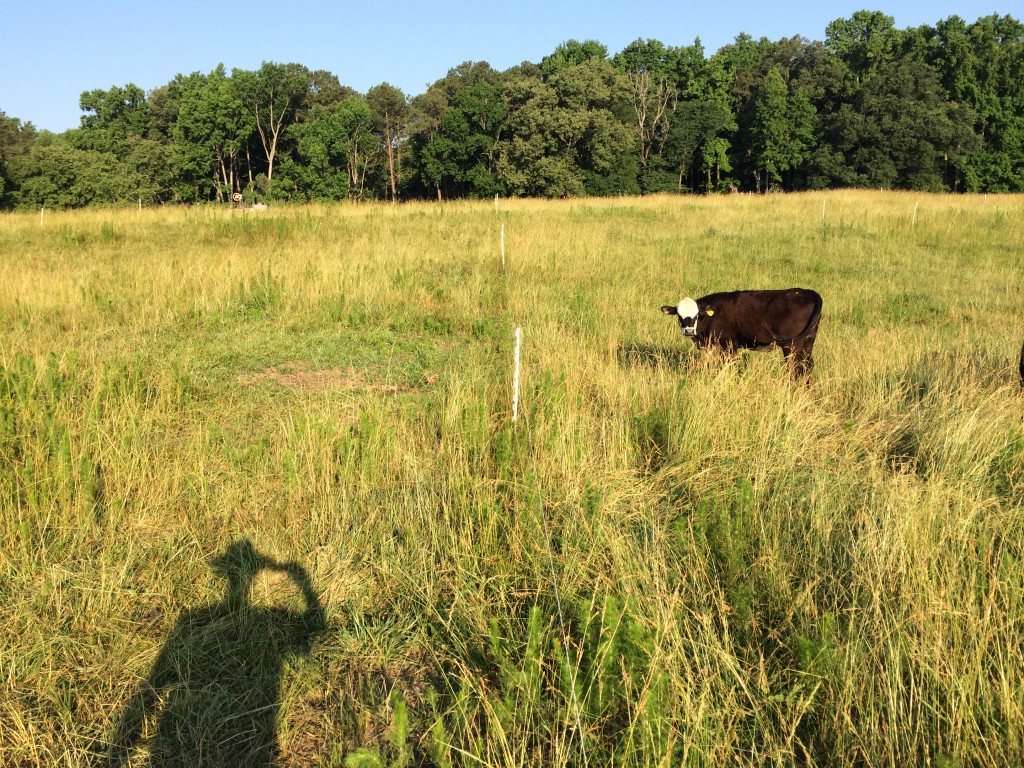 Grazing update from 6-8-2014. The paddocks are about 35 yards wide, and half the length of the main pasture. They are split in length on the bottom of the field where all the repair work was done last year for erosion. While the cows eat a lot of the seed heads, they leave quite a bit standing as you can see in the picture. The dog fennel is rearing its head, and the thistle is coming up thick but only in areas where there is an issue. I hate thistle, but it's a pioneering plant that is good for recovery of soil. Having it be so selective where it comes up is satisfying because it was starting to pop up everywhere. As we've recovered soil health, it's starting to choke out in the good stands of grass and only appear where things need more help. I love it when what we are doing works.
One thing both Spork and I noted was that the cows are leaving quite a bit of grass behind. They aren't reaching under the hot wire at all, nor are they eating down the grass past a first bite or two. The clover is being decimated as usual but the grass is only getting decent pressure. As we head into summer, that's where I want the grass to be. Tall and not under pressure, even though the fescue will go dormant and our warm season grasses will take over, the fescue will help shield the ground from the heat of summer. We will clip this pasture as we've done the others, leaving about 8″ of height and plenty of litter on the ground to help rebuild the soil. One big reason the grass is not getting so much pressure is that huge amount of veggies and fruits we are bringing onto the farm each day. We literally bring thousands of pounds of produce on the farm, most of which goes to the cows. The cows are getting a lot of what they want from these loads of produce, and are filling in the corners with a days grazing. The end result if happy, fat cows with no grain (except seed heads).
One issue I'm noting is that the flies are especially bad this year. There is a swarm around the cows and I don't want to use chemicals to ward them off. We ordered another batch of meat chickens last week. I'm hoping to get the chicken tractors back in production behind the cows so they can start eating the fly larvae. That is supposed to put a dent in the fly population. It's about time these chickens started earning their keep around here.