Dan has been writing on the blog about all the taste testing on the farm, we've all put on a few extra pounds with it.  Now the products that we are going to carry have been handed off to me to make yummy lunches and dinners with.  Luckily I have a husband  & daughter who are adventurous eaters for the most part.
Today I'm aiming  for a savory sweet pork roast. One that livens up the dinner plate yet is balanced enough to not overwhelm the rest of the dinner. This is where Alarita comes in. Yesterday the sons of Miss La Rita came in with their salsa's. We got to talking and we were throwing idea's off of each other like the finals at Wimbledon.
With a pork roast you want to roast it at a low temperature giving the fat time to cook down and spread through the meat. Roughly an hour and fifteen minutes per pound. My favorite temperature to roast pork is at 280 degrees. Today with the citrus involved we are going a bit higher to 300 to get the sugar to play nice.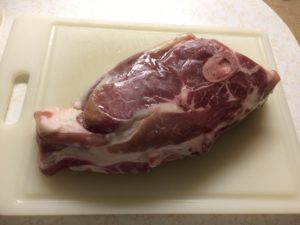 The Pork Butt & Picnic Roast both come in at $7.50 lb. The roast you see here weigh 2.66. And provide 1 meal for 4 and lunch for me. I had our neighbors Erin & Mark taste test the roast as well. All around everyone loved it. For lunch I used it to make lettuce wraps, and it was definitely just as great the 2nd time around.