The NCF Store recently started carrying a smaller sized brisket. Instead of 7-8lbs the new cut is more manageable for a family at 2 ½ to 4 lbs. This meal fed 2 families, 5 children and 5 adults for under $70. That's a big crowd when you realize the kids are hitting peak growth and hunger ages. Yesterday, was a typically busy house day. It's the beginning of the homeschooling year, creating a bit of chaos.
I started watch Big Bang Theory years ago, since then I've wanted to make Howard's Mother's Brisket. It always appears to be one of those sought after items and much discussed. At 11 a.m. I realized, "Oh no the brisket isn't in the oven yet. Is it too late?" Usually when I smoke a brisket, I like to keep it at 225 F for 12 hours. This however, was going to be served at 6 pm. OOPS!. As I seasoned the roast I discovered I was out of garlic powder. My mise en place was non-existent. I did what any good cook does and turned up the heat, changed the recipe and crossed my fingers.
In the afternoon, I met up with Erin (our neighbor & NCF's milker) and run a chicken errand. When Erin and I walked in the door at 5:30pm; Bam the smell hit us. Something amazing had happened while we'd been out, the garlic powder missing was a great accident. Erin was planning to make tostadas for dinner and we both thought the kids would love to have dinner together and pulled beef brisket tostadas just sound AMAZING. I must admit they tasted even better, especially since Erin pampered us with fresh fried tostada shells.
Sorry, there aren't a ton of pictures of the process as I did not plan on blogging this due to my loss of time management. It is too good not to share though.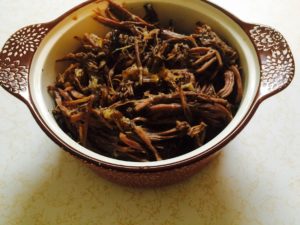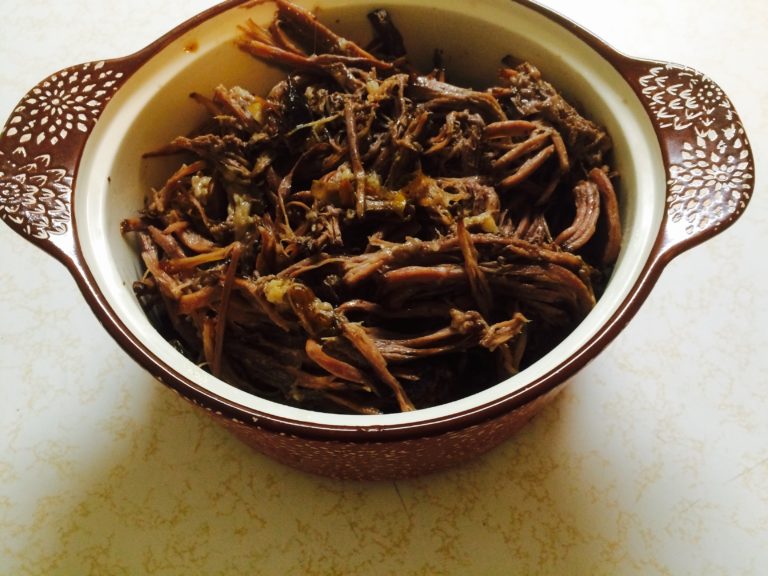 Savory Brisket
1 3-4 lb beef brisket
½ tsp onion powder
1 tbsp black pepper
1 tbsp kosher salt
2 med. yellow onions sliced thinly
2 heads of garlic cut in ½
½ cup Worcestershire Sauce
1 cup high quality no salt beef broth
Pre-heat oven to 285 F
After bringing the roast up to room temperature season both sides with salt pepper and onion powder.
Place in Dutch Oven fat side up with a firm lid ( If no dutch oven is available use an oven safe deep skillet with tight fitting lid.) Or yes a crock pot on the high (about 250F) and be prepared to wait an extra hour or 2.
Lay garlic & onions across the top and sides of the brisket evenly
Pour Worcestershire Sauce over the top of the roast
Pour beef broth on the sides of the roast.
Place lid & place in the oven for 6.5 hours
Once the brisket can be pulled apart gently with a fork remove and rest for 15 minutes before pulling apart completely. Serve warm
As for the tostadas fill that puppy up anyway you like. We topped the shell with refried beans, brisket, onions, lettuce, cheese and fresh tomatoes.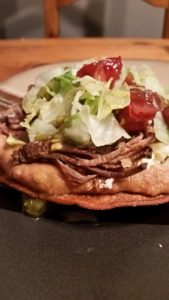 For another application serve it as a pulled apart roast. Remove the fat off the top of the sauce with a turkey baster, remove the garlic & onion, reduce and serve in its own dish. In my house folks a picky about the amount of sauce they use.