Miguel and I took Alice (not his real name) to the market with us the other day. I'm not sure why he says yes to invites to things like this. He's smart, thinks ahead, and generally is one of the more intelligent people I know. By now I'd think he'd have learned to avoid me when I'm dressed for work. Anyway, we put him to work helping us load about 2 1/2 pallets of tomatoes all by hand onto our little tag trailer we use to haul vegetables each day. Being the observant and careful person I know him to be, Alice pointed out that the tires looked awfully squished and the trailer seemed a tad overloaded. Didn't we want to take a bit less and be safe? Safety 3rd is our motto, and we do this every day, so the trailer will be fine. Shut up and get in the truck.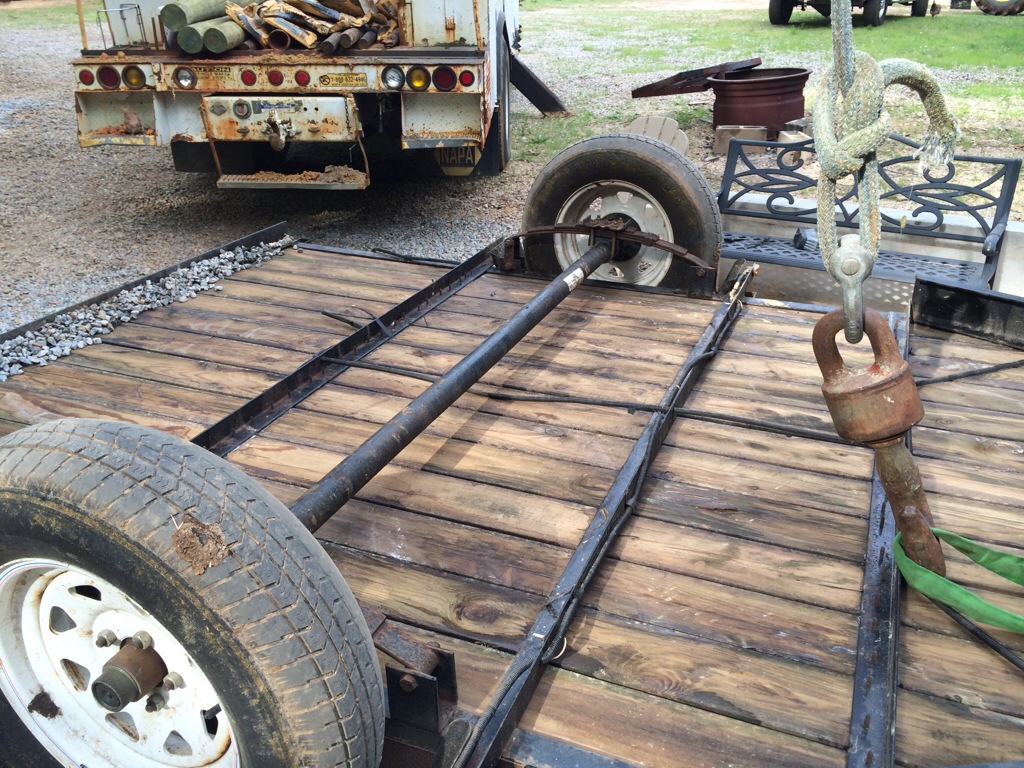 Um actually, the trailer isn't fine. It hasn't been fine for some time. The axle was bent at some point in the past. There is no telling what bent it, but hauling the Bridgeport mill probably had something to do with it. Miguel had noticed that the tires were wearing badly on the inside so this past weekend, just after Alice had informed me we had too much weight on the trailer, we flipped the trailer over to find out what was going on. Sure enough the axle was bent and now I have to admit once again that Alice was correct. Please nobody tell him. He's already impossible to deal with. The bend wasn't bad, but it was bad enough. I could replace the tires but they would cup again shortly. The axle could be straightened or replaced. Since we use this trailer every day, I elected to replace the axle. Off to Agri-Supply we go.
We determined that we had a 3500 pound axle under the trailer currently. I knew Agri-Supply carried everything to make a trailer from scratch so I thought a nice 5000 lb or so axle would be a nice upgrade for this little trailer. After consulting with the nice man from trailer accessories for about 20 minutes, we determined that there was no such option as a 5000 lb axle. The axles he had in stock were 3500 lb and 7000 lb! Yikes. That's certainly enough to carry the weight, but that sized axle required new spindles, which were 6 bolt instead of the five bolt we had.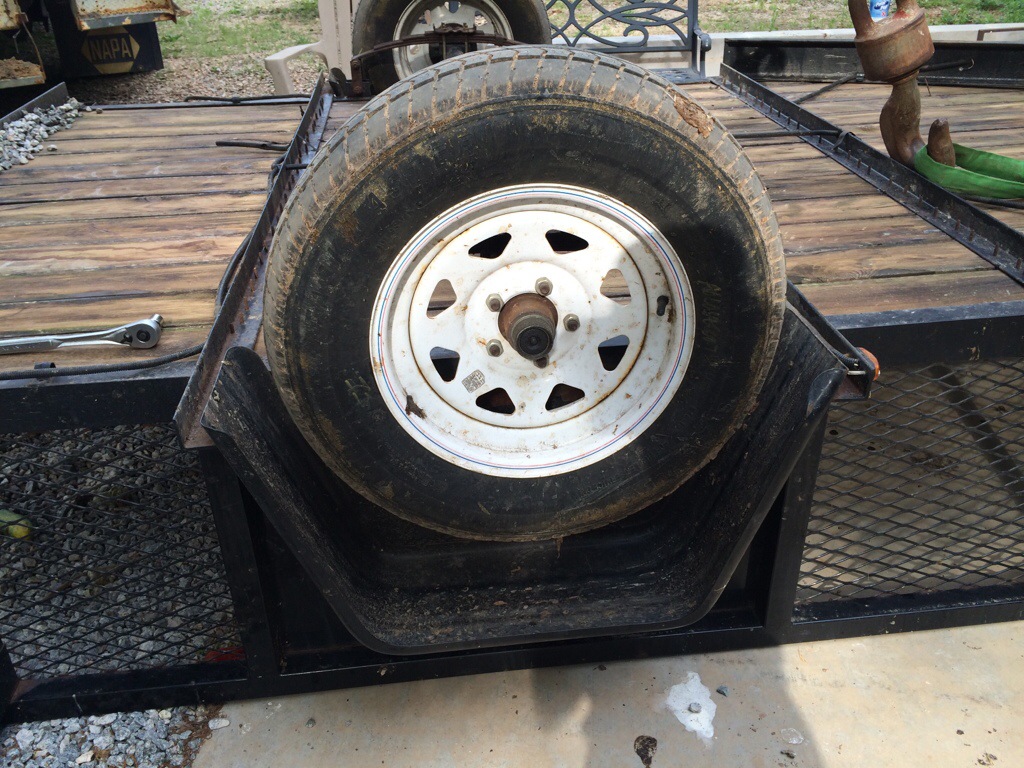 The new spindles also required a 16″ tire vs. the 15″ we had on the old axle. Sigh. That means that our fenders were an issue because of lack of clearance. This trailer had to roll at 3pm that day to make the run so cutting off and installing new fenders just wasn't an option. Keeping the fenders meant that the tires at Agri-Supply were going to be too tall. So off to Universal Tire we go to have 225/65 R16 truck tires mounted.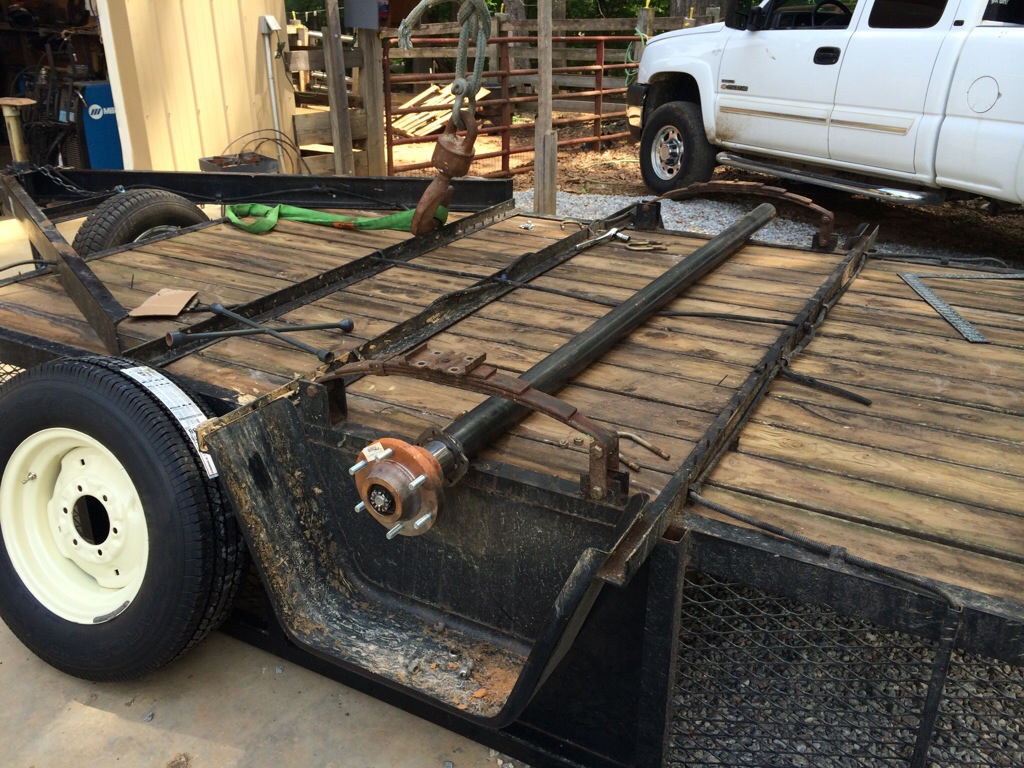 Did I mention that the 7000 pound axle wasn't an axle assembly? It was a base metal project. An axle, cut over length, spindles, bearings, etc. all needing to be cut, welded, etc. and all needing to be properly done both in fit and strength. And all done TODAY because we have people and animals waiting on us. Here we have one side tacked up. We're checking the clearance of the tires, once we mount the tire.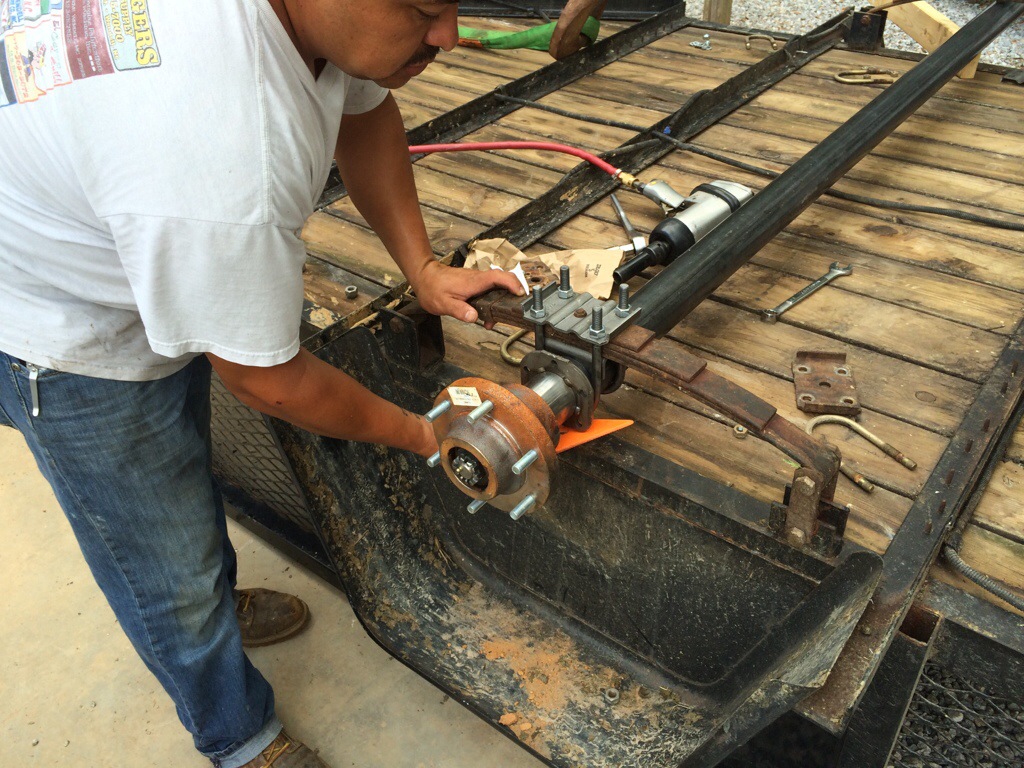 I know it looks like Miguel does all the work because he's always the one in the picture doing the work. There's two reasons for that.
One. Miguel actually does most of the work.
Two, I'm always behind the camera. It's like how the children will have never had a mom if you only look at our photo album. She's always behind the camera. That's why her other nickname, besides SWMBO and Darling Wifey is Crazy Picture Lady.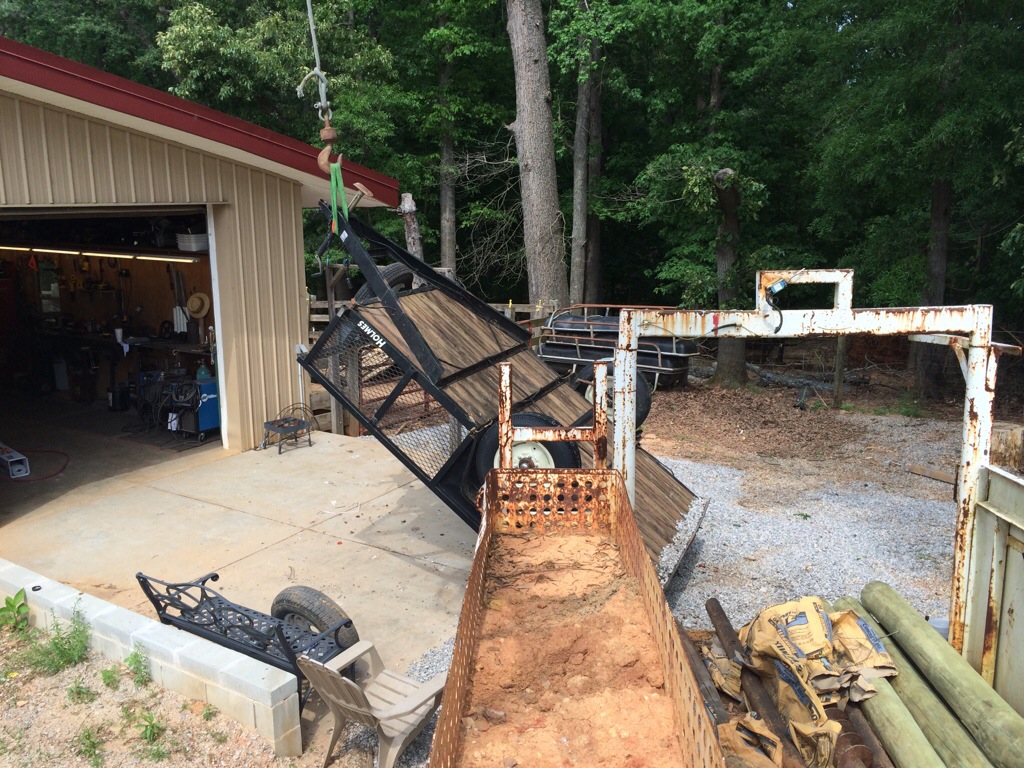 Everything put back together. We are flipping the trailer back onto its tires. Have I mentioned how amazingly handy it is to have a crane hanging around? We don't use the bucket truck that often, but when we do it's awfully handy and worth the money I spent on it, very used of course.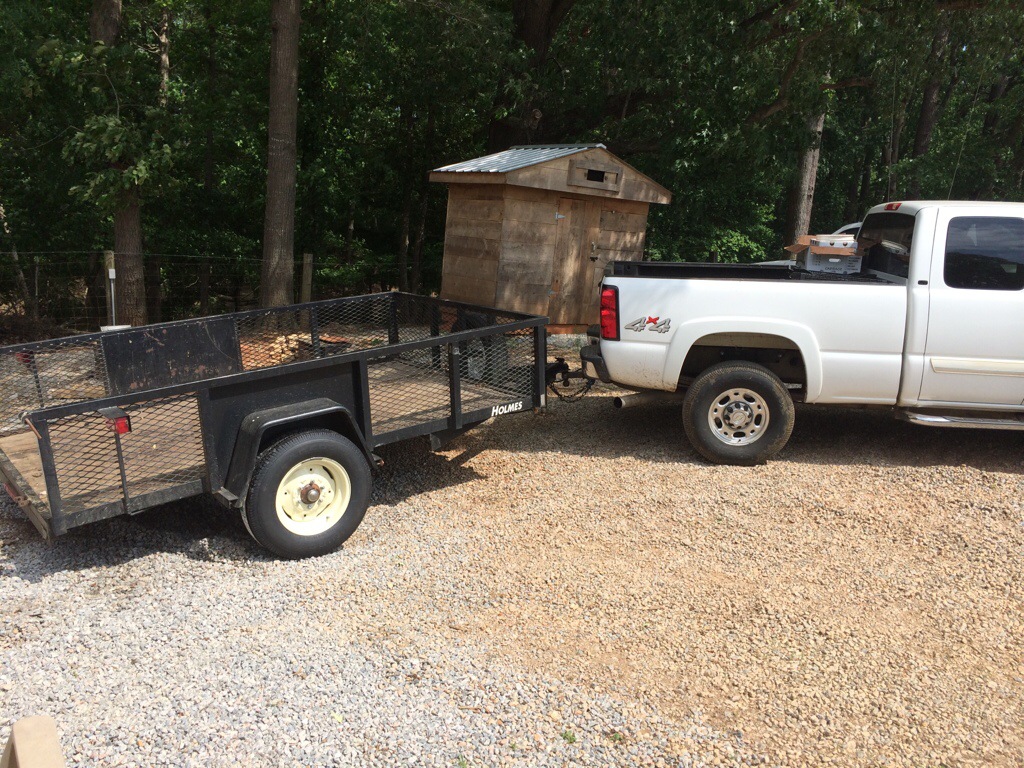 We started on this project about 9:30. We had to go to Agri-Supply, Universal Tire, Agri-Supply again, remove the old axle, and weld up a new axle, and get lunch. We were on the road at 3pm. Overall I think we did a pretty good job. Now the trailer has the capacity to carry about 6000 pounds of weight (the tires are the limit now) and should be what we need for a long time. I debated on getting a larger trailer instead but decided that having a maneuverable little trailer was too beneficial considering the places we go with it.
The old axle is bent but serviceable. It'll probably become a hay wagon or something similar at some point in the future. Who knows, you might ride on it when you come for a tour. Don't worry though, I'll straighten the axle before I use it.