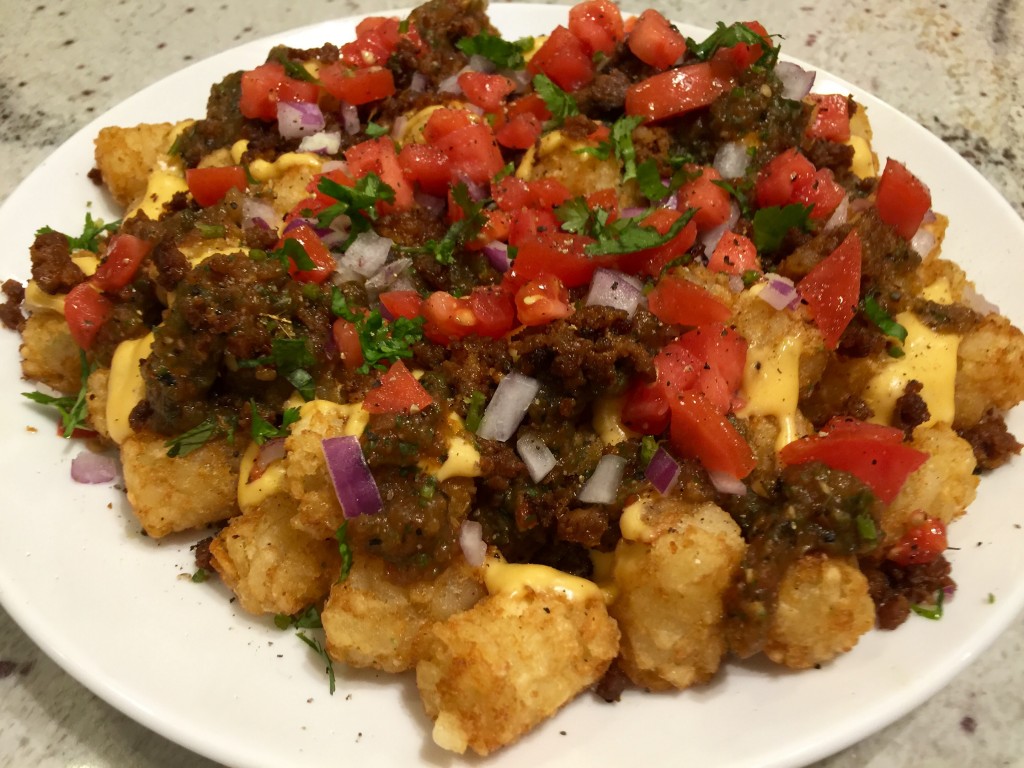 In my last tribute to chorizo before sharing recipes with other Ninja Cow meats, I wanted to share this recipe that is sure to please the whole family–kids and parents alike.  Loaded tater tot nachos with a homemade ooey gooey cheese sauce!
What you need:
1 bag of frozen tater tots
1/2 pound of chorizo
Salsa verde (recipe is here)
8 oz of fresh shredded cheddar cheese (pre-shredded loses flavor/aroma and is akin to pre-ground versus fresh ground pepper)
Your favorite hot sauce
1 tablespoon of corn starch
one 12 oz can of evaporated milk
4-5 roma tomatoes
1/2 of a white or red onion
1-2 jalapenos
salt
1 lime
1/2 of a bunch of cilantro
What you do:
Make your pico de gallo.  Slice the roma tomatoes diagonally and remove the excess moisture and seeds with your fingers.  Dice.  Mince your onion and jalapenos (remove the jalapeno seeds if you don't like spice–this way you mainly get the flavor).  Chop your cilantro.  Mix everything in a bowl, salt and squeeze the juice from 1 lime into the mix.  Let rest.
Brown your chorizo after removing it from the casing, drain the excess fat and let rest on a paper towel lined plate.
Do you own a deep fryer yet?!?  I alleviated my guilt by using coconut oil in my deep fryer 🙂 Deep fry the tots at 375 until they are a nice, crispy brown and salt. About 4 minutes.   Alternatively, you can bake the tots per the package instructions.
Meanwhile, toss the cheddar cheese with the corn starch.  Throw it in a pot on the stove over medium heat and add the evaporated milk.  Stir constantly until it starts to simmer and immediately take it off the heat.  Add a healthy dose of your favorite hot sauce and serve immediately.  No worries if your timing is off.  You can easily reheat on the stove and stir.
Plate and serve!  I added the ingredients in this order:  tots, cheese sauce, chorizo, charred salsa verde, pico.
The cheese sauce is a real hit in my house and goes well with lots of dishes.  I have had it with cheese fries and burritos when going for more of a Tex-Mex type of dish.  I have also used half cheddar and half pepper jack with great results.