Today Miguel, Spork, Michael, and I transported cows from our leased farm back to our farm. As usual, they were not excited to get onto the trailer but once they got home they were happy to see where they were.
Fred Smith Co had Old Stage down to one lane as they were doing I don't know what to the road but we managed to get back and forth four trips without too much delay. We even managed to catch the one way traffic going our way the last two trips so we didn't have to wait.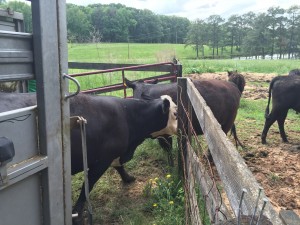 The cows were turned into the pasture where Betsy and Bernice (our milk cows) have been hanging out. They were quite excited to see all these cows show up as they had new friends to play with. The beef cows were happy to be on the fresh grass and back home.
It took us most of the day but everyone is home. Nobody is happier about it than your farmer. I always miss the cows.