I'm always ready for spring. By the end of winter I've had enough and I am watching for any sign that spring may be coming. Summer I'm always watching out for because it means going to the lake with the kids, plenty of produce, fat cows and pigs, etc. Winter gets here whether I want it to or not but at least I'm looking forward to weather that makes it fun to be in the shop with a fire going, or cold enough days that we can fire up our smoke house and smoke some bacon or whatever we are planning on smoking.
Fall for some reason always sneaks up on me.  In my head, it's 102 on August 31st and 81 on September 1st. It's one of my mental blocks I guess. I have to remind myself that the end of August is the beginning of September and September is fall weather. Nowhere has this mental block been more apparent in the past than with our grapes.
Muscadine and Scuppernong grapes ripen in late August, early September. In my head it has always been September and I can't tell you the times in my younger days I've gone out to the grape vines in early September to find all the grapes gone because it was the first time I'd thought about the grapes. I'm older, wiser, and hungrier now and I know to start keeping an eye on the grapes in mid-August. That experience was rewarded yesterday with this.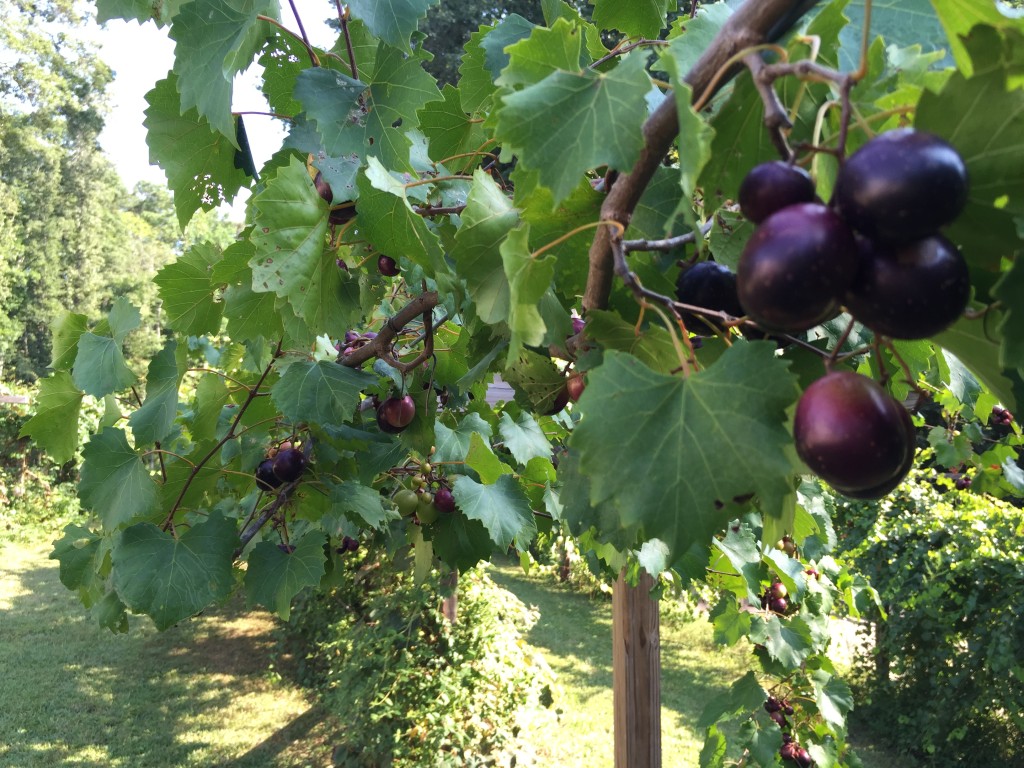 I generally give a few grapes a squeeze once they start looking dark purple. The first one I grabbed was almost ripe. I was surprised and thought maybe I was late in checking the grapes but it was just luck. I'd grabbed the one grape that was ahead of the others and the next few grapes confirmed they were still pretty hard. We have a few weeks before it's time to pick grapes although I did go back and pick that one grape. Yum! The first grape of fall!