In North Carolina, pork is the undisputed king of meat.  It is so versatile that I could cook with it every day and not get bored.  I am going to dedicate my first few recipes to one of my favorite forms of pork–chorizo.
Chorizo is a sausage made from pork shoulder that is typically seasoned with all spice, cloves, thyme, garlic, salt, pepper, cumin, oregano, paprika or ancho chili powder and you can even see fennel seeds in some recipes.
It has a wonderful and complex flavor that is not too spicy unless you kick it up a notch by adding cayenne or various other chiles. Ninja Cow chorizo is ready to roll when you pick it up unless you are craving some heat. I typically remove the meat from the sausage casing and break it up as I saute it in a skillet. You can break it up into small pieces like hamburger meat as pictured or leave it in small, juicy chunks. It just depends on what you are looking for. I wanted to make chorizo mussels with this recipe, so I went for smaller pieces.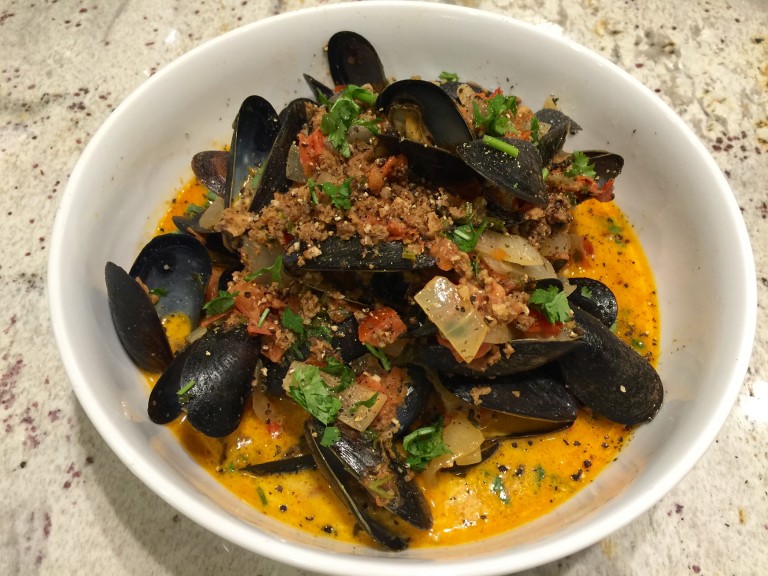 | | |
| --- | --- |
| | |
Brown the chorizo over medium-high heat for about 5-7 minutes and then remove/drain almost all the fat from the pan and set chorizo aside on a plate with a paper towel.

Add butter to the pan, onions, paprika, saffron and ground black pepper.

Cook for about 3-4 minutes until the onions have "sweated" and are translucent.

Then add the garlic, tomatoes and cook for another 2-3 minutes.

Add your wine, some of the parsley, cream and stir in the chorizo. Add the mussels and bring to a boil.

Once boiling, reduce to a simmer, cover the pot until the shells have opened--about 6-8 minutes.

I like to garnish the top of the dish with more parsley, but that is optional as well.

Meanwhile, cut your baguette into slices and toast under the broiler and enjoy!