In order to keep the kids as my first priority (and stay out of trouble with SWMBO) I blocked my entire day today for this kid shindig. However now that we are here at the actual event, the schedule has been firmed up and I am free to get out to the store late this afternoon. I've setup the schedule for no tours, pickups only. And it's only from 4pm onwards. But if you want to swing by and pickup some meat today, you can book an appointment for late today. If you didn't see, we have everything back in stock, including beef.
If you are one of the three and 1/2 pages of folks who had pre-orders, your orders have been pulled and are ready for you. If you'd like to stop by and grab them, just book a slot this afternoon and swing by. I haven't updated the chalk board yet in the store. I hope to do it before we open but don't freak out if everything is still marked as out of stock. We do indeed have beef on hand. Here is the picture proof.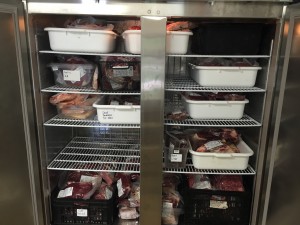 After all the pre-orders were pulled, we had 1 pack of ribeyes left. Those are first come, first serve. We do still have some strip steaks left, and filets I think. We also have flat iron steaks in this time which nobody pre-ordered so we have plenty of them.