While we are open for regular customers today from 8am – 5pm, however starting at 1pm we will also be part of the 10th annual CFSA farm tour.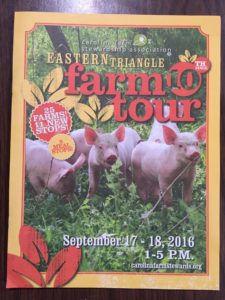 This is our first year being on the farm tour so we have little idea of what to expect but we have all hands on deck should we be so fortunate as to have a large crowd.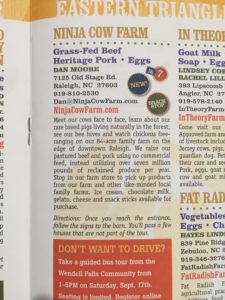 Today SWMBO and Spork will be giving tours on the quarter hour showing new visitors the farm, seeing the baby pigs and chickens. The usual stuff.
Erin, our resident milk maid, will be out by our girls Betsy and Hedi to explain to people how we go about milking our cows, what we do with the milk, etc.
Jennifer Howard from Buck Naked Farm will be here with not only her encyclopedic knowledge of bees, but an observation hive as well so you can see the bees hard at work up close and personal.
Jason "Abe Froman" (extra points if you know what that name is from) will be manning the grill, cooking up samples of our bratwurst and chorizo sausages, whetting your appetite before you head into the store where you'll find Lucy, Dagny, and Myla helping everyone with their shopping.
Of course the bakery is already hot this morning, making up batches of fresh chocolate chip cookies for today. Make sure to grab yours when you come in.
You can purchase your ticket for the farm tour at the first farm you visit (which should be us, of course!) The tickets are $30 per car so it's one price for all farms, and all your friends who can ride along. You can see as many of the 25 farms over the weekend as you can get to. I could usually get about 3-4 per day if I tried hard but I usually ended up staying at a favorite farm too long and only hit 2-3. You can buy your tickets from CFSA as well, right here.