I posted that we were out of so much stuff, we shut down the scheduling book for this week.
Today we have some good news. This morning, thanks to our wonderful chicken farmers, I have an order of fresh chicken being delivered along with a complete restock on dairy products. That means we'll have unfrozen (till they freeze in our freezers) chicken, along with chocolate milk, cream, ice cream, etc. all on hand for your shopping needs by lunch time today.
Thursday I'll be on the road most of the day picking up our pork order. We dropped off two hogs last week at the processor. They weighed a staggering combined weight of 688 pounds! I can't wait to see the size of the pork chops on these suckers.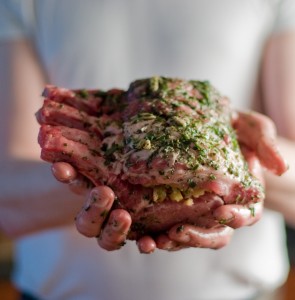 We are also getting in a few of our special order 4 bone roasts on this order. A customer rightly took me to task on why I didn't have them in stock to start with so I ordered a few roasts for him and for anyone else who is so inclined. They will be first come, first serve. I expect them to go fast, not only because you fine folks will gobble them up but when SWMBO sees them in the freezer she'll probably grab whatever is left. I'll make sure to get some from out next hogs going to the processor as well so we can keep some in stock for the next little bit.
We did get a nice surprise that our bacon is going to be ready on Thursday as well. Although we still technically have bacon pieces, we were out of sliced bacon. However come Thursday we should be back in bacony goodness.
On Friday, Lord willing, I'll be picking up our beef from the processor so we can finally get the beef freezer filled back up. We have three pages of pre-orders so a lot of what comes in will be going right back out. But while I was there I sat down with our processor and booked our schedule out till December. I was able to negotiate two cows per month a number of months for the rest of this year. I think I can meet those numbers for 2016, but we don't have a concrete plan for how to do it for 2017 yet. However I met with a landowner last night to lease part of their farm, I'm meeting with a customer tonight who has a farm they may want to lease, and I'm still looking at property around us that is available. I've also contacted Animal Welfare Approved, to see if we can locate an AWA cattleman who would like to sell weaner calves to us exclusively so we can increase our herd to match the land we hope to secure. We are working as hard as we can to get more beef in the freezer!