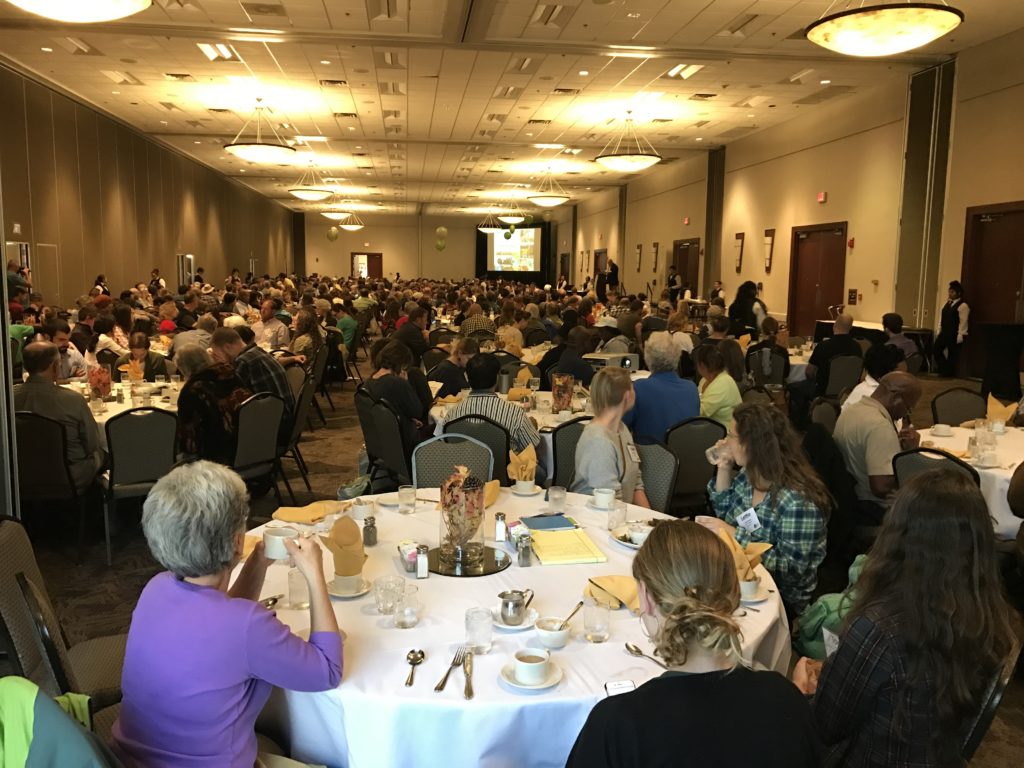 This past week, it seems I've been at school more than on the farm. It all started when I attended the CFSA 2016 sustainable ag conference in Durham. As usual, I signed up for this event thinking I'd have time to go. Of course when it was time to go, I had WAY too much stuff to do and had no idea what fool had signed me up for this. So I missed Friday's portion of the conference, and skipped all the opening and closing events and after parties and whatnot. But I was there for the meat of the thing on Saturday and Sunday.
Saturday morning started off with a bang as I attended "Why Farms Fail" presented by Scott Marlow, who is with RAFI. Scott spent 12 years working the farmer crisis hotline. This means he routinely received calls like, "The bank is coming Friday to repossess the farm. What do I do?!" I spent 20 years in corporate America. I've dealt with failing businesses, repossessions, collections, etc. I felt like I knew why farms failed, but I wanted to hear what Scott had to say. Well 10 minutes into the class I was like a Baptist yelling "Amen!" from the back pew.
Scott gave an awesome talk and frankly it should be required to spend an hour in a room with Scott if you are planning on going into farming. Sadly, he didn't have any recordings of his presentation (I asked) but I emailed him a reminder that he needs one. If he ever does record one, you'll see a link here. And I'll make sure it's required of the people who routinely come to me and want to get into farming.
After a great start, I ended up bouncing from class to class all day. You can always learn something at any conference, but frankly I had more experience than many of the people presenting. I don't ever want to be too old to attend something like this, but I think this was more geared towards beginner farmers. What was striking was that more than half of the audience was women. And not just women, young women. If you wonder why that's a big deal, go to the sale barn one evening and watch cattle be sold. Then look at the audience.
Average age, 67.
99.9% white
100% male (unless wife is with hubby)
That's the traditional face of farming. This group was average age of 28, more female than male, and probably 70% white. Different group. Different demographic. Different type of farming.
So I left with some new contacts but no real actionable items. I'm glad I went but I think I'll skip it the next time they have one.
But on Friday I was a speaker at NC State for FoodCon 2016, which is a different kettle of fish. This was a conference of people in the industry. More academics, students, government people. That kind of thing. Again, I had no idea who'd signed me up as I needed to be visiting a potential vendor that morning rather than sitting at a conference. It couldn't have been me who said yes. Luckily I was able to play hooky that morning and go visit a new food vendor for us, Cultures for Health. There will be more about that in a future post.
After my visit, I made my way back to NC State, parked in the wrong area. Then parked in the right area (Don't you love parking on campus!) Then finally I made my way inside and was able to attend a few sessions before my session on recycling. I found that our session had some excellent panelists and I was honored to be up there with them. I also was able to visit with some movers and shakers in our industry who were attending as well, and make a few more connections with fellow farmers so it was a good event.
The next few weeks will be spent catching back up at the farm, trying to get turkeys in and delivered to our customers, and actually having Thanksgiving ourselves. Then it's December and time to worry about Christmas! Where did the year go?