As is our custom, we don't announce to the world that we'll be out of town. Something about robbers and whatnot.
For any of you farmers you know that getting off of the farm for any amount of time is nigh impossible but this trip was one that I was not going to miss or put off. When SWMBO and I got married way back in 2001, we had the good fortune to go to the British Virgin Islands on our honeymoon. We split our time between a hotel and living on a crewed sailboat tooling around the BVIs for a few days. After staying in the hotel, I was about ready to head home. A few days off and it was time to go back to work as far as I was concerned. But we'd planned this sailboat thing and it was our honeymoon so…
After a few days on the boat, they had to drag me off kicking and screaming. I didn't want to go home. I wanted to stay on this boat for at least a month or two however we'd spent all the money we had and if wanted jobs to return to, it was time to go home. However I said to my shiny new SWMBO, "I want to come back and do this again, but this time stay on the boat the whole time. "
My patient wife explained to me that we couldn't come back in short order. We couldn't afford the money or time. Then in a few years, we'd have kids, and the kids couldn't travel on a boat. "They'd fall over and drown", she said. I was devastated.
"We'd have to wait till the kids were old enough, she explained."
"How old is old enough?!"
"Maybe 9 or 10?"
"What?!! I have to wait 10 years to come back?"
"Actually honey, we are having more that one, so we'll have to wait till the youngest one is old enough, so more like 15 or 20 years. Sorry."
I was crushed. I'd be too old to do anything by the time we came back. Probably in a wheelchair, needing supplemental oxygen. I mean, God, I'd be in my 40s by then. I'd be OLD.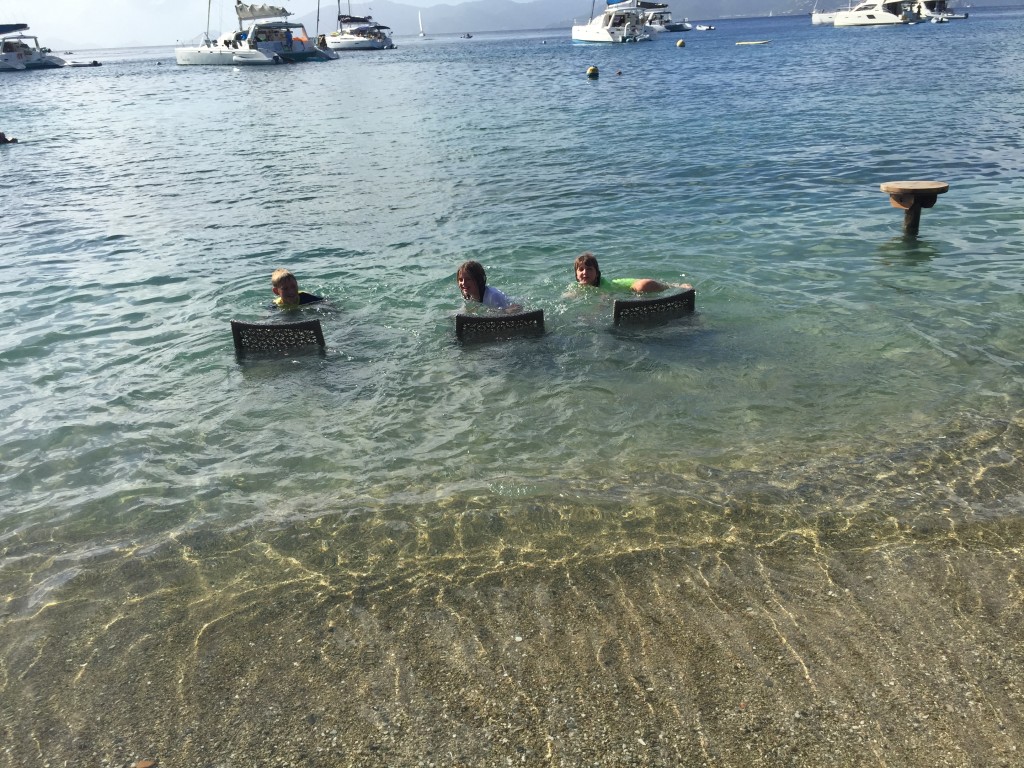 Yeah, turns out it wasn't quite as old as I thought. And in the meantime I took over a company, sold a company, got my sailing certifications, got experience as a captain, and helped raise three wonderful kids. Everything worked out as planned and over Thanksgiving the whole family sailed our very own (rented) sailboat all around the central and Eastern BVIs. Tortola, Cooper Island (our favorite) Virgin Gorda, The Baths, The Bitter End, Salt Island. We had some boat issues that prevented a passage to Anegada and we elected to repeat The Baths rather than make a run to the West side (more boat issues). The weather was wonderful, the kids were wonderful, the wife was wonderful and it was everything that I remembered and more. More so because with the kids, everything I would have missed was brought to the front. It is definitely more fun going with your whole family.
I left the farm in Miguel's capable hands and as soon as the sun comes up, I'll be heading out to see what has happened while I've been gone.
It took 15 years to put this trip together. It was worth every moment. Now, I have to figure out how to wear shoes again.