If you've been here before, you know that produce is what makes our pigs different. We don't feed commercial bag feed to our animals.
Above you see a normal way to feed pigs. Once a week, once a month, whatever, you dump bags of feed into the top of the feeder and then you basically walk away from the pigs and ignore them.  If you are certified Organic, the only difference is that you dump Organic feed in instead of Tractor Supply feed. No really, that's what Organic means. Different feed. The pigs generally eat what you see in this picture, corn. If they are Organic then its Organic corn. Corn is the animal equivalent of this.
Corn is calorie dense, but nutrient deficient. Of course people may feed a grain mix, or a prepared pellet like this.
The grain companies will tell you all the nutrition the pig needs is in this pellet. Probably is. Of course they are telling you that your pig will gain at a maximum rate for the minimum cost to produce the biggest pig possible in the shortest amount of time possible. They aren't promising the pig will live a long healthy life since that pig will be slaughtered at 6 months of age. It is not like the pig will get heart disease, joint problems, etc in only 6 months. But the pig will get the results of this kind of diet in the meat in 6 months. The same meat you will be putting into your body. I'm assuming you're planning on living longer than 6 months.
Fed with a self feeder, when pigs want to eat, they walk over to the feeder, nose it open, and munch on the grain inside. After they eat their fill, they go lay back down and don't do much else the rest of the day. We've bought pigs fed this way before. They are extremely fat and lazy to the point of it being funny. I actually loaded some large pigs one time from a farmer. Usually loading pigs is kinda upsetting to them. They are going into a strange new place and are locked in. The doors slam and people yell and poke. They can get upset. We closed the trailer door behind them and started chatting for a minute while I wrote the check. About 2 minutes after loading, I heard snoring and looked in to see one of the pigs passed out asleep and already snoring. Folks, that's not calm, that's fat and lazy!
When those pigs would get to our farm (we no longer buy pigs), we would melt about 25% of their body weight off in a couple on months. It was like starting a gym membership and weight loss program all at once. Suddenly they had to work to get their food, and their food wasn't high calorie, nutrient poor corn. The pigs became active and spent their days rooting and looking for additional food besides the produce we fed them. Once they lost their blubber, they grew at a normal pace and finished out nicely. What they weren't able to be anymore was this.
So what do think makes for a healthier meat for you and your family, the couch potato above, or this?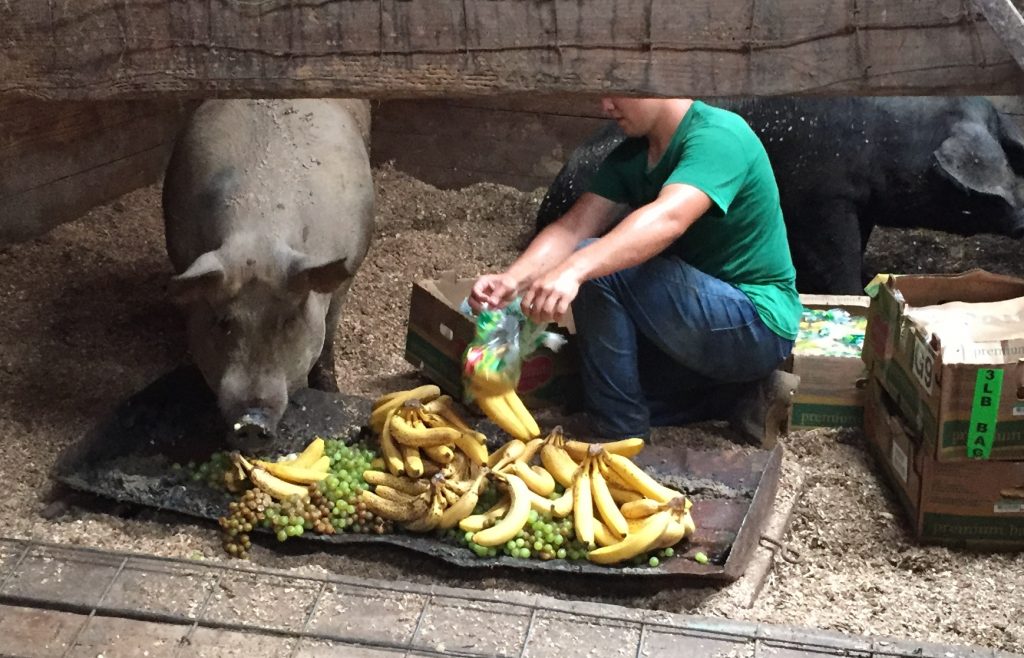 Oh, and did I mention there is NO COMPARISON in the taste? Try our pork chops or Boston butts and see what real pork tastes like. There is no comparison.