About a week ago, I posted that we had a new cut of pork in the freezer. It was just a little note at the end of a beef update. The cut of pork showed up and looked like this.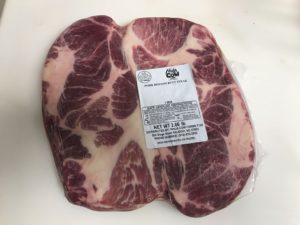 I wasn't really sure what it was. Lucy had attended the Women in Meat Conference and she and Brooke (Hi Brooke) from the processor had some sort of pow wow on new cuts Lucy wanted to bring in. I kinda tuned out of the conversation so I really didn't know what she ordered.
So I'm unloading the truck and these things are in the box. Boston butt steaks. Looks cool, no idea what it is. Stick them in the freezer somewhere and worry about it later.
In talking to Lucy later, she informs me these are cut wrong and aren't what she asked for. Go figure. I explained that this is what happens when we go out of the norm. Now we have 20 packs of these things that we'll have to do something with but oh well, it's ok. When you are a farmer, your mistakes taste like bacon!
Last night, SWMBO finally got around to cooking our first batch of these butt steak thingies. That's how it is at our house. Something getting old? Something out of date? Something with damaged packaging? The farmer gets the stuff nobody wants, not the ribeyes.
Not knowing what else to do with these weird cuts, she just cooked them the way we do our pork chops, along with some peas from a bag and a bottle of vino (for the sauce and the chef!) She plated the steak thingies about 10 minutes after walking in the door and pushed one in front of me.
"They looked good. Hmm, they cut good, kinda tender like a porter house or a ribeye. They seem to have great marbling… if I didn't know better, I'd think this was a steak…."
So I took a bite, and another. Good Lord these things are awesome! I didn't really taste the pork flavor, they tasted more like a steak than a pork product. They were tender, juicy, flavorful. SWMBO said she tasted the pork and she's probably right but I don't care. They were awesome!
I ate mine. Then I gnawed the bone. Then the kids wandered off to play. I ate theirs. Then I was eyeing the one that was for lunch later but I decided to behave.
So we've got like 12 packs of these things I think. I'll have to look when I steal them all and hide them from everyone so they don't get sold. I think this is my new favorite thing! The only problem is, I'm not in the store today so hopefully nobody will know about our secret new cut till I get back home and can hide them from customers.
Nobody reads this blog, right? I'm safe.